It may be Boxing Day to most, but today it will be Christmas on the streets of Bradford.
The soft white rolls have been collected – good to know our bakers get up 'early doors' to make sure we get what we need.
The fruit juice [orange, mango and a vitamin supplement] is being poured into cups. The Chicken Supreme is already 'on the go'.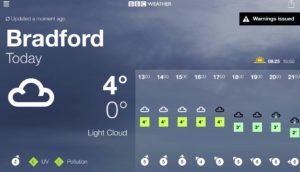 The many veg [broad beans, rice, green beans, potatoes, butter beans, peppers, mushrooms and onions] were prepped at silly o'clock. The chicken is being sealed as I write; and it will all come together with some herbs, pepper and lashings of double cream ready to transfer into our large flasks and brought down to The Pavilion.
The soup – vegetable today – will be prepared at two colleagues' houses and will be brought down just in time for our 4pm start.
The Black Forest Gateau is being portioned and put into bowls with [even more] double cream ready to slosh on top just before 'service'.
The tea and coffee will be prepped when cups and trays permit – probably during service. The After Eight mints are ready to be handed out; as are the handfuls of Quality Street. And the Gazebo will be erected when further troops arrive.
The van containing 66% of the presents has already arrived and will be positioned ready for a smooth delivery to waiting hands.
I'm told that the weather should be kind to us all today – at least, no rain before 6, which was just what we wanted. I really should be somewhere else right now, so that's where I'm going.
John Tempest