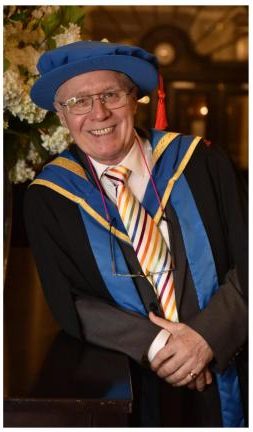 On November 25th, John Tempest, founder and director of the Soup Run, received an Honorary Fellowship from Bradford College for his tireless work in the city over the years. John received the prestigious honour from University Centre Bradford College at the graduation ceremony at St George's hall. He joined hundreds of students who were celebrating the completion of higher education courses at the college this year.
For the past 35 years, John has led the Soup Run team in helping some of the most vulnerable people in Bradford. The Soup Run has fed tens of thousands of people in need over the years and has provided them with clothing, footwear and bedding. Every winter, the charity aims to bring cheer to the less fortunate. John and his team also support an annual Christmas meal, ensuring that the homeless receive a hot meal during the festive season when the weather is poor. It has promoted many other initiatives to support the homeless including its Chox and Sox campaign, which asks people to donate chocolate, socks, scarves, gloves and other accessories to give the homeless something for Christmas.
He said: "I was surprised, then delighted to be told of this award and I'm pleased to accept it on behalf of my colleagues on The Bradford Soup Run, their families and those in Bradford and further afield who have supported us in the past 35 years. At times it has been a rocky road: we've been short of money, albeit temporarily; we've been threatened with eviction, but then got a new building; and, like any organisation, we've had deaths which have rocked our very existence. But, like any family, we've pulled together and got on with doing what we do well."
The charity is now planning for Christmas and expects to meet and feed around 200 people.
Cath Orange, Chair of Governors at Bradford College, said: "This is a very special day for our graduates. We are very proud of their success and, on this graduation day, celebrate their achievements with them. We hope they take with them very special memories of their time at the College and wish them all a very happy and successful future."